We are delighted to welcome Miriam Guttmann, director of the recent VPRO documentary Seeds of Deceit (Het Zaat Van Karbaat), who joins us for a discussion on the ethics of documentary-making. Miriam provides a very candid insight into the large web of complexities she found herself navigating through, during the filming of her Sundance selected film. In this episode we explore the purpose of a documentary maker, a director's relationship to the characters of the story they're directing and where their duty lies. We unpack these more abstract questions through the lens of Miriam's brilliant short docu-series, so make sure to check it out!
Our guest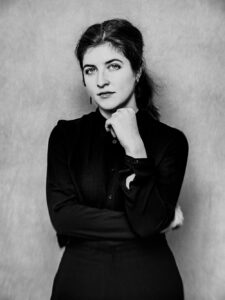 Miriam Guttmann (1994) is a Dutch documentary filmmaker based in Amsterdam.
She graduated from the Netherlands Film Academy in 2018 with the short film Seeds of Deceit, which won various international prizes.
The three-part series Seeds of Deceit with the same title, that Miriam made as a sequel to her short film is the first Dutch series ever to be selected for the prestigious Sundance Film Festival where it premiered in January 2021. The series was broadcasted on Dutch television by the VPRO early 2021.
Next episode
We get that Oscar fever and so it's only right we unpack the Academy Awards – the good the bad and the ugly. We explore their finest and most disappointing moments and how the industry tends to commodify its players.
Film Club
Writer/director Ari Folman adapts prophetic science-fiction author Stanislaw Lem's novel The Futurological Congress to tell the tale of an actress (Robin Wright) who sells her likeness to a powerful film studio, which in turn transforms her essence into a chemical compound suitable for consumption by the masses. Harvey Keitel, Danny Huston, Jon Hamm, and Paul Giamatti co-star in this ambitious feature that blends live-action with animation to offer a cautionary look at the future of entertainment.
Films mentioned
Seeds Of Deceit (Miriam Guttmann, 2021)
E.T. The Extra-Terrestrial (Steven Spielberg, 1982)
La Dolce Vita (Federico Fellini, 1960)
The Notebook (Nick Cassavetes, 2004)
Sex And The City (Michael Patrick King, 2008)
The Act Of Killing (Joshua Oppenheimer, 2012)
Casting Jon Benet (Kitty Green, 2017)
The Assistant (Kitty Green, 2019)
The Congress (Ari Folman, 2013)
Our hosts