What should be a light-hearted reflection on the films of nightmares & nostalgia, which helped form our presenters and their viewing habits, quickly reveals itself to be a psychoanalysis of the 3 different approaches to parenting and movie-watching. If that is not enough drama for you, Tom returns with even more lists, reflecting on the best and worse rehashing in cinema as well as considering what the future may entail. If you have more questions you'd like us to discuss, or stories worth sharing then send us an email.
Next episode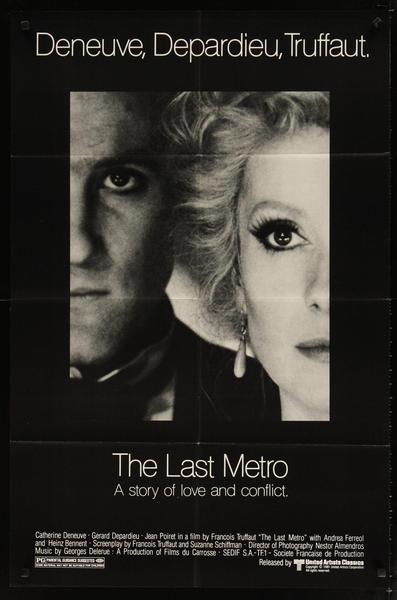 Joined by screenwriter and director Kim Kokosky Deforchaux, who has chosen Second World War movies as a lens through which to celebrate cinema, tackling cinema's relation to trauma and how we remember history. Find out which Second World War films make Kim's list of top 50 – yes he is also another list lover!
Film Club
The Last Metro (Le Dernier Métro) is set virtually in its entirety in a crumbling French theatre. During the Nazi occupation, Jewish director Lucas Steiner (Heinz Bennent) hides in the basement of the theatre, while his wife Marion (Catherine Deneuve) stars in its latest production. Marion is enamored of leading man Bernard Granger (Gerard Depardieu), and he with her, but they resist temptation out of respect to her husband. When she is given a choice between loyalty to her husband and to her countrymen, her dilemma offers two logical solutions–both of which are acted out on stage during the play. The Last Metro is one of the few films to accurately capture the feeling of what it was like to live in Paris under the thumb of the Nazis.
Films mentioned
Evil Dead (Sam Raimi, 1981)
Halloween (John Carpenter, 1978)
Child's Play (Tom Holland, 1988)
A Nightmare On Elm Street (Wes Craven, 1984)
The Thing (John Carpenter, 1982)
The Fly (David Cronenberg, 1988)
Psycho (Gus van Sant, 1998)
The Shining (Stanley Kubrick, 1980)
Candyman (Bernard Rose, 1992)
Space Jam: A New Legacy (Malcolm D. Lee, 2021)
E.T. The Extra-Terrestrial (Steven Spielberg, 1982)
Jurassic Park (Steven Spielberg, 1993)
2001: A Space Odyssey (Stanley Kubrick, 1968)
eXistenZ (David Cronenberg, 1999)
Sleeping Beauty (Clyde Geronimi, 1959)
The Exorcist (William Friedkin, 1973)
Se7en (David Fincher, 1995)
Mank (David Fincher, 2020)
Fallen (Gregory Hoblit, 1998)
Scream (Wes Craven, 1997)
Honogurai Mizu No Soko Kara (Hideo Nakata, 2002)
Pet Sematary (Mary Lambert, 1989)
The Lord Of The Rings: The Fellowship Of The Ring (Peter Jackson, 2001)
The Lost World: Jurassic Park (Steven Spielberg, 1997)
Jurassic Park III (Joe Johnston, 2001)
Star Wars (George Lucas, 1977)
It (Andy Muschietti, 2017)
It (Tommy Lee Wallace, 1990)
Manon Des Sources (Claude Berri, 1986)
Jean De Florette (Claude Berri, 1986)
Blade Runner 2049 (Denis Villeneuve, 2017)
Mad Max: Fury Road (George Miller, 2015)
The Raid 2: Berandal (Gareth Evans, 2014)
Before Sunset (Richard Linklater, 2004)
Before Sunrise (Richard Linklater, 1995)
Terminator 2: Judgment Day (James Cameron, 1991)
Bad Lieutenant: Port Of Call – New Orleans (Werner Herzog, 2009)
Aliens (James Cameron, 1986)
Miami Vice (Michael Mann, 2006)
War Of The Worlds (Steven Spielberg, 2005)
Ghostbusters: Afterlife (Jason Reitman, 2021)
Ghostbusters (Paul Feig, 2016)
Knights Of Cups (Terrence Malick, 2015)
Nostalghia (Andrei Tarkovsky, 1983)
Le Dernier Métro (François Truffaut, 1980)
Our hosts