Western cinema has mostly defined our movie crushes to be predominantly white, often leaving non-white characters to be reduced to caricatures, particularly East-Asian characters. To celebrate the 4K restoration release of some Wong Kar-Wai classics, we are joined by author, filmmaker and activist Pete Wu to dissect the representation of East-Asian characters in Western cinema and how WKW directly opposes such limited portrayals. We even have an exclusive from Wong Kar-Wai himself who adds his own voice to this insightful discussion. As always, if you have any questions you would like us to discuss or stories about cinema you would like to share then please email us at celebratingcinema@lab111.nl.
Our guest
Journalist and writer Pete Wu wrote his acclaimed debut The Banana Generation (Das Mag) in 2019, which was nominated for the Brusseprijs 2020 for Best Journalism Book.
In June 2020 he made the VPRO docu-series Pete And The Banana's, which explored dating and relationships among East Asians Dutch youngsters.
Next episode
Joined by author and film critic Basje Boer, we will discuss female desire and the notion of "sexy" in cinema. We explore how cinema has warped our perception of both these concepts but more importantly we unpack some great films that are positively reaffirming female desire.
Film Club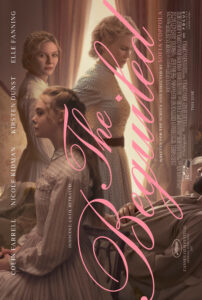 In Civil War drama The Beguiled, a deserter from the Union Army (Colin Farrell) seeks refuge at an all-female boarding school in Virginia, where the ladies compete for his affections while tending to his injuries. His presence at the school slowly poisons the relationships between the various women, who eventually turn on the soldier. Nicole Kidman, Elle Fanning, Kirsten Dunst, Oona Laurence, and Angourie Rice co-star. Sofia Coppola wrote and directed The Beguiled, which is based on a novel by Thomas Cullinan that was previously adapted into a 1971 film of the same name (with Clint Eastwood in the role played here by Farrell).
Films mentioned
(click on the links for tickets to screenings at LAB111)
Peter Pan (P.J. Hogan, 2003)
Hook (Steven Spielberg, 1991)
Finding Neverland (Marc Forster, 2004)
Lost Highway (David Lynch, 1997)
True Romance (Tony Scott, 1993)
L'Eclisse (Michelangelo Antonioni, 1962)
The Basketball Diaries (Scott Kalvert, 1995)
Crazy Rich Asians (Jon M. Chu, 2018)
The Farewell (Lulu Wang, 2019)
Your Name (Makoto Shinkai, 2016)
Crouching Tiger, Hidden Dragon (Ang Lee, 2000)
Full Metal Jacket (Stanley Kubrick, 1987)
Irma Vep (Olivier Assayas, 1997)
Vive L'Amour (Tsai Ming-liang, 1994)
Lethal Weapon 4 (Richard Donner, 1998)
Shang-Chi And The Legend Of The Ten Rings (Destin Daniel Cretton, 2021)
Our hosts