Joined by the programmers of Imagine Film Festival, the largest celebration for fantastic film in the Netherlands, showcasing the best in fantasy, horror and science fiction. Lauren & Stan along with Tom & Hugo reminisce their first turn down spooky lane. Along this nostalgic path of agreeable scarring, they question what really is a horror in today's film landscape.
Our guests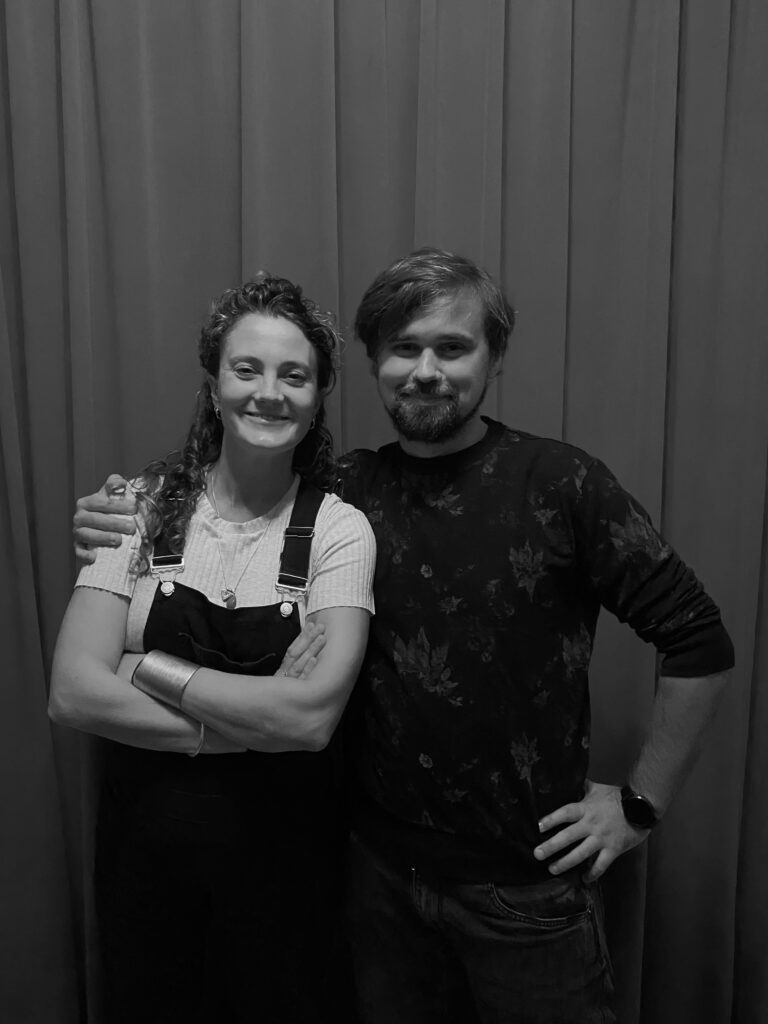 Lauren Mae Murphy is a cultural facilitator based in Amsterdam with a background in film studies, fantastic cinema and photography. While programmer of Imagine Film Festival, Lauren is also head of content at Cineville, an independent platform that aims to make independent cinema more accessible. Lauren sees Imagine sees fantastic fiction as a rich source of thought experiments that anticipate or reflect on social and technological developments.
Stanislaw Liguzinski is the head VR programmer of Imagine Film Festival in Amsterdam (NL), a co-director of the Essay Film Studio of Lodz Film School, and a Research Coordinator at the Netherlands Film Academy. Being a graduate of academic programmes in media, film and critical theory but also the Master of Film programme in the Nederlandse Film Academy, he combines both practice and theory to develop credible forms of practice-based research in XR and film. He wrote for major Polish media outlets, edited journals, curated programs and XR experiences for international film festivals and cultural institutions. He is conducting research into videographic forms of thinking.
Partnership with MUBI
We are delighted to announce our new partnership with MUBI, a curated streaming platform. Together, we offer you 30 days free to watch hand-picked films discussed in the ongoing podcast series, a LAB111 podcast celebrating the intricate wonders of cinema. Every month you can check out our featured films, including titles we've discussed on previous episodes & movie classics to feast upon.
Next episode
After the recent passing of the iconic French director Jean-Luc Godard, the gang is back to celebrate Godard. Accompanied by the release of the Au Revoir Godard programme at LAB111, we share our most intimate memories of a man who forever changed the face of cinema.
Films mentioned
(click on the links for tickets to screenings at LAB111 & Imagine Film Festival)
The Witches (Nicolas Roeg, 1990)
Mister Blot's Academy (Krzysztof Gradowski, 1984)
March of the Wolve's (Polish Song)
Goosebumps (Koichiro Miki, 2012)
Matilda (Danny DeVito, 1996)
The Exorcist (William Friedkin, 1973)
The Dentist (Brian Yuzna, 1996)
Se7en (David Fincher, 1995)
Batman (Tim Burton, 1998)
The Addams Family (Barry Sonnenfield, 1991)
Wednesday (Tim Burton, 2022)
Batman Returns (Tim Burton, 1992)
The X Files (Chris Carter, 1993-2018)
Twentynine Palms (Bruno Dumont, 2003)
Come and See (Elem Klimov, 1985)
Raw (Julia Ducournau, 2016)
Monos (Alejandro Landes, 2019)
New Order (Michel Franco, 2020)
The Father (Florian Zeller, 2020)
Stir of Echoes (David Koepp, 1999)
Ju-On: The Grudge 2 (Takashi Shimizu, 2003)
Door Lock (Kwon Lee, 2018)
Drive My Car (Ryûsuke Hamaguchi, 2021)
Kill Bill: Vol. 1 (Quentin Tarantino, 2003)
Buried (Rodrigo Cortés, 2010)
Meander (Mathieu Turi, 2020)
Fall (Scott Mann, 2022)
47 Metres Down (Johannes Roberts, 2017)
Mandy (Panos Cosmatos, 2018)
Inland Empire (David Lynch, 2006)
The Seventh Continent (Michael Haneke, 1985)
Caché (Michael Haneke, 2005)
Spoorloos (George Sluizer, 1985)
The Shining (Stanley Kubrick, 1980)
Demon (Marcin Wrona, 2015)
Hunted (Vincent Paronnaud, 2020)
Our hosts